What do edMe Reading apps do?
edMe reading apps provide real-time AND comprehensive feedback to help students improve their reading skills. We ask four question types:
These apps feed into one database so that we can give formative feedback to your student. If you use more than one edMe Reading app (e.g., edMe Soccer and The Wizard of Oz), we can give you comprehensive feedback on critical reading skills like Vocabulary and Supporting Evidence.
We are looking for passionate people to write questions about their favorite topics. Choose your favorite book, receive feedback on your questions, and get paid to help children learn how to read.
This page describes the process (there is also a PPT and PDF).
How do I write an app?
There are only three steps because we value your time and expertise.
To be clear, you can send us any type of text document that has the questions separated by chapter with the correct answers.
Choosing a book
Pick a book you love and already know extremely well, so it's easy to write questions. If you already have a book you wrote questions about, you can use it but you will have to license to edMe Apps.
Most of the money you will earn will come from downloads of your apps, so you may choose a book that is popular with children or schools. These books are already selected:
Story Thieves: Book 1™ (in development)

The Borrowers Afield™ (in beta testing, projected release July 6th)

Artemis Fowl™ (in beta testing, projected release July 5th)

The Fantastic Mr. Fox™ (in beta testing)

Fever, 1793™ (in beta testing)

A Wrinkle in Time™ (in development)

Moby Dick (in development)

Jane Eyre (in development)

Anne of Green Gables™ (in development)

Romeo & Juliet (in development)

The Book Thief™ (in development)

No More Dead Dogs™ (in development)

Lost in the Sun™ (in development)

A Negro Explorer at the North Pole (in beta testing)

The Fault in Our Stars™ (in development)

The Castle in the Attic™ (in development)

The Reformed Vampire Support Group™ (in development)

The Reptile Room™, book two (in development)

The Tale of Peter Rabbit (in development)

The Tale of Mr. Jeremy Fisher (in development)

Wonder™ (in development)

Carrie™ (in development)
* Apple has held some of our apps, asking us to combine them. We are working with them to find a resolution.
Questions - Main Idea
In each chapter ask a multiple-choice question so students summarize the main idea/plot events. This helps students understand the plot of the story, and if they are lost, they will receive guidance through the Feedback page.

(If a chapter is extremely short, you may need to skip this question).
Questions - Important Details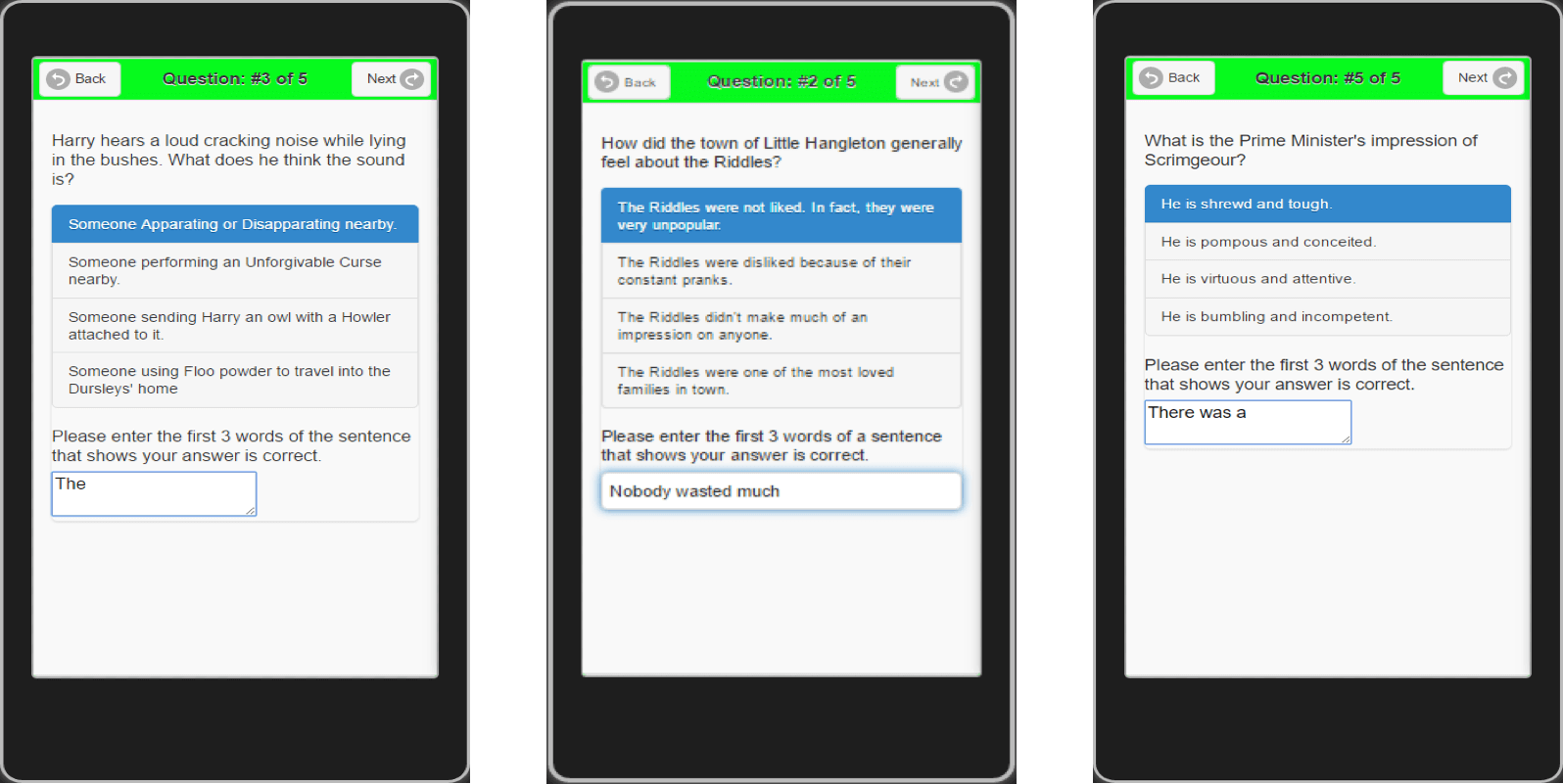 Most questions will ask about critical details in the story. Try to pair these questions with Supporting Evidence questions so that students consult the text.
Notice that students may enter their answer or choose it.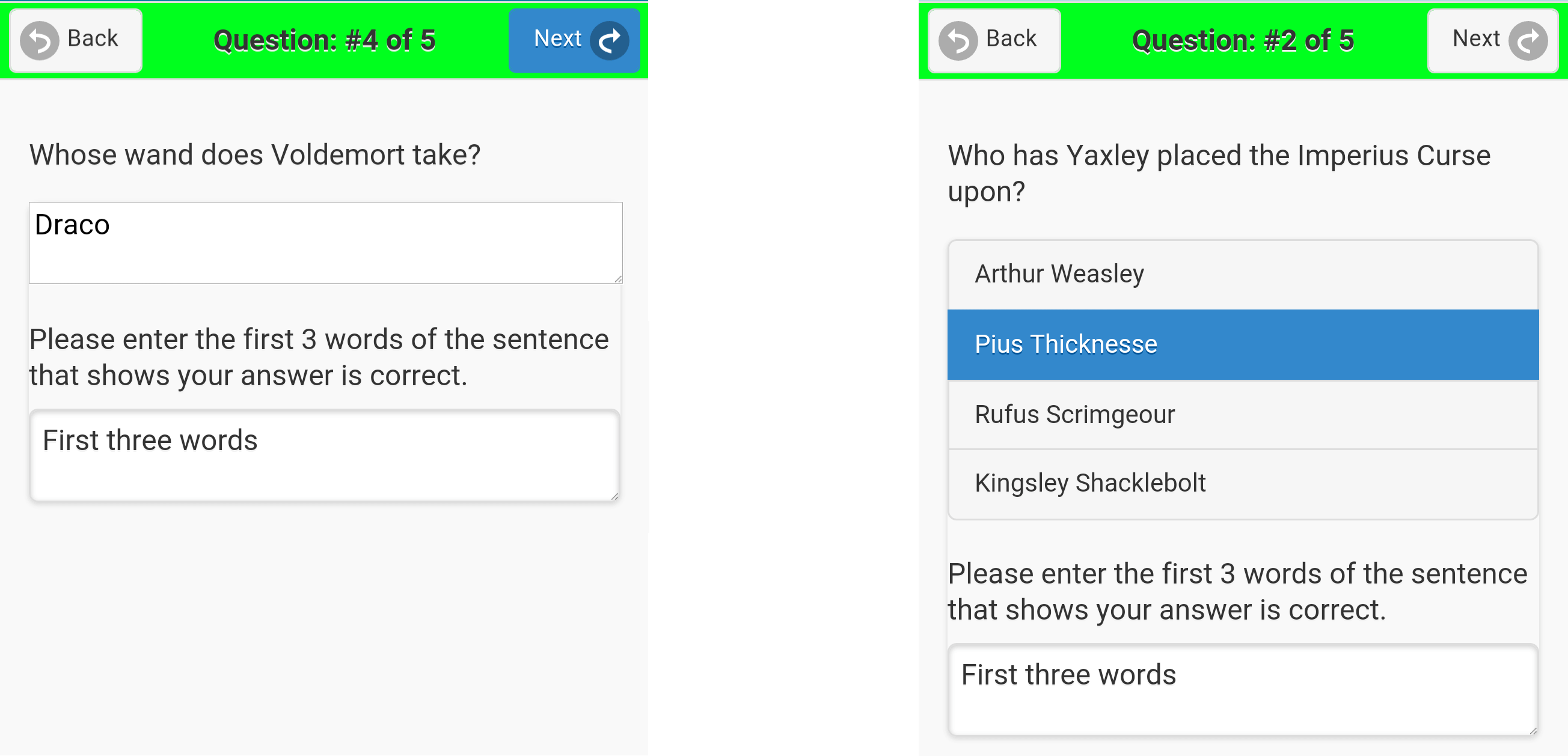 Questions - Supporting Evidence
You do not need to write the Supporting Evidence question, it always appears as shown. You do need to list all the sentences that students may cite as textual evidence.

In this example, the writer chose to bold the correct evidence.
Questions - Vocabulary
You will identify the most important words in your text--words that will help students understand a variety of texts. These questions will have options that could make sense grammatically in the sentence.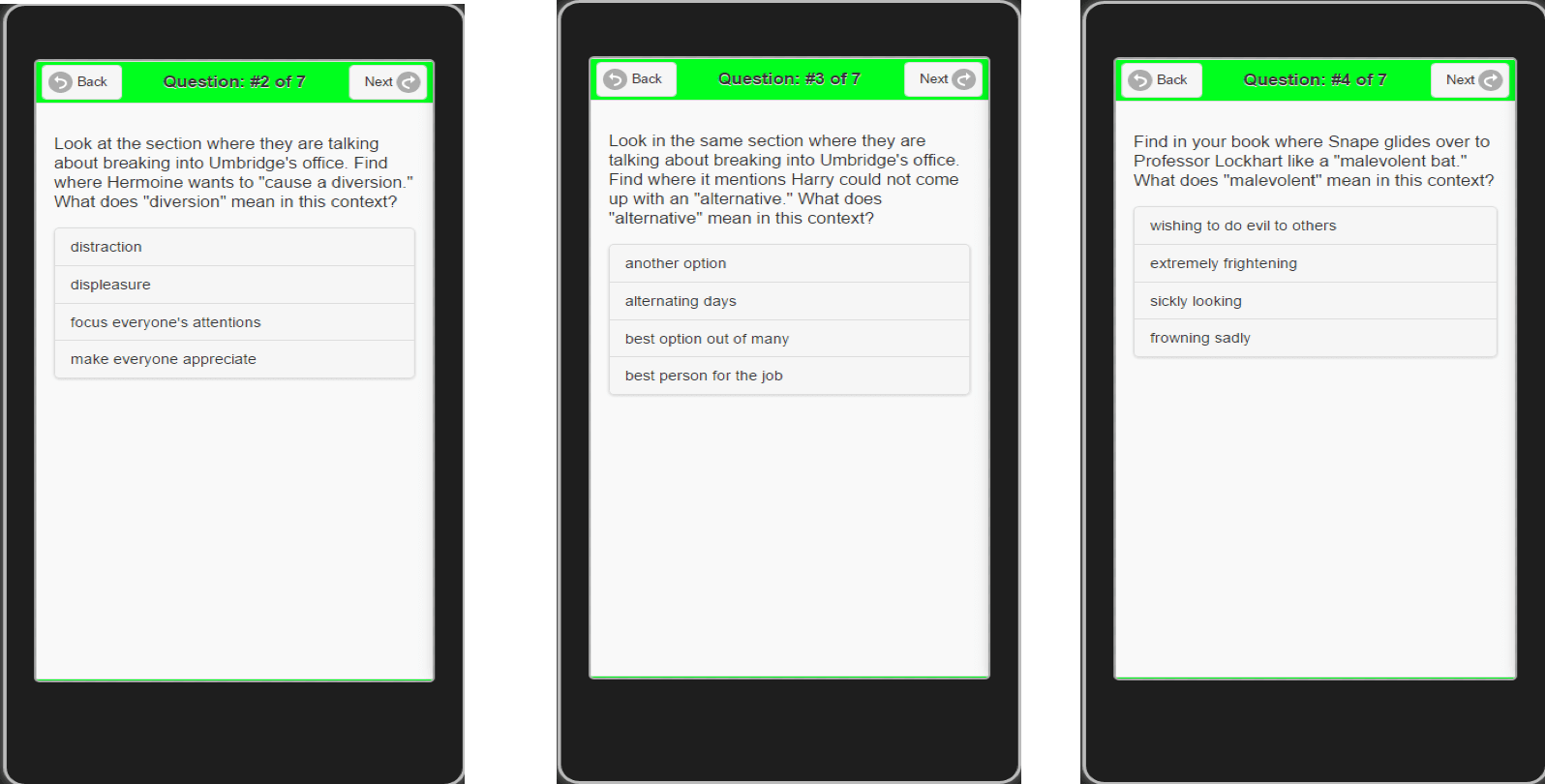 Great! How do I start?
Just email us with a suggested title and we will ask for you to email or mail a signed contract and W-9.
We will ask for you to send us a small set of questions when you get started (10-20 questions). You will not need to edit those questions, it's just a way for us to give you feedback. Then, you will create questions for a few more chapters and we will send a second round of feedback.
Then, you will finish creating the questions for the book. Afterwards we may ask you to write a few new questions. For example, these are the issues we have asked writers to address:
Write more vocabulary questions.

Add more Supporting Evidence citations.

Improve the correct answers for the Main Idea questions.
We pay an initial downpayment of $2 for each question you write (even if it does not make it into the app). Then, every 3 months we will send you a check with 20% of the earnings from the app.
You do not need to do any coding, just send us the questions in a text document and we will do the rest!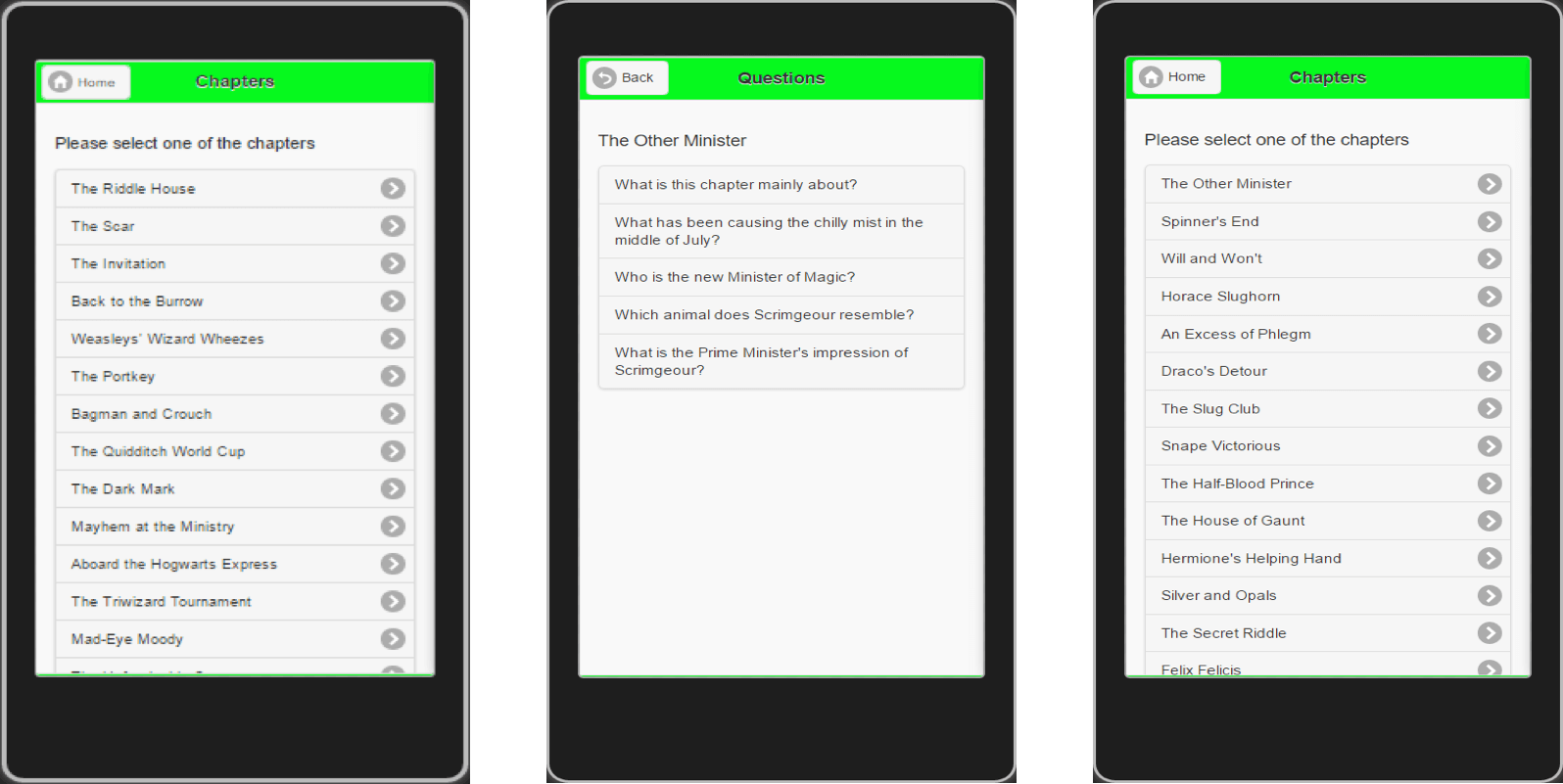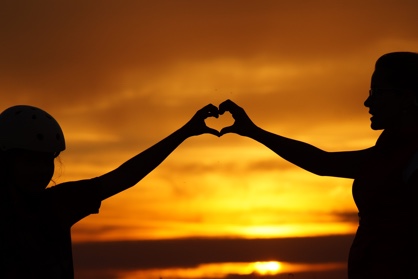 Join us!
Please join our e-mail list to be notified of our latest app releases. Also, consider joining our Testing Group if you would like to provide feedback during our app development process.
© Copyright 2016. All rights reserved.

<